ARMA
The Association of Residential Managing Agents (ARMA) is the only body in England & Wales to focus exclusively on matters relating to the management of residential leasehold blocks of flats.
With over 250 firms in membership, ARMA's founding principal aims are to represent its members and therefore the interests of lessees, resident management companies and investor freeholders.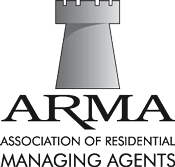 It is estimated that there are over 1.8 million private leasehold flats in England and Wales. Whether the buildings in which they are situated are owned and controlled by investor freeholders or the lessees themselves, a large proportion employ managing agents to handle the day to day running and ongoing cyclical maintenance of their buildings.

Managing agents have a unique and important role to play in managing other people's homes and money - a role that requires an in-depth knowledge of residential management, a wide range of skills and the utmost professionalism.

Please feel free to click on any of the links below to download any of the following guides:


About ARMA
Appointing a Managing Agent
Living in Leasehold Flats
The Letting of Leasehold Flats
Right to Manage
Reforming the home buying and selling process
ARMA's Annual Report
Contact ARMA

The Association of Residential Managing Agents (ARMA)
178 Battersea Park Road
London
SW11 4ND

Tel: 0207 978 2607
Fax: 0207 498 6153

Email:
info@arma.org.uk

Web:
www.arma.org.uk
Search the ARMA database for members
Please note:
ARMA cannot provide legal advice to the public - visitors are advised to contact the Leasehold Advisory Service (LEASE) if legal advice is required. If your query is not regarding block management (for example if you have a query about the letting or renting of properties), please see our Useful Links page for the relevant organisation.